A Complete Transformation: Cara's Story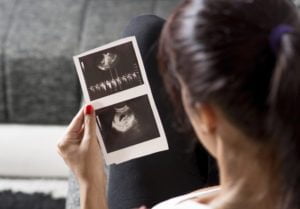 When Cara* came through our doors seeking a pregnancy test last winter, she was overwhelmed with the pressures of college and couldn't imagine taking on parenthood. She felt pressure from her boyfriend to get an abortion, and was fairly certain that it was her only option.
One of our advocates met with Cara before her pregnancy test. The advocate listened to her, supported her, and presented information on every option so that she could make a fully informed decision.
Cara was indeed pregnant. During the ultrasound, which revealed that she was just five weeks along, she was quiet and appeared very sad. When she left the center, she was undecided between choosing abortion or keeping her baby.
Seven weeks later, Cara decided to come in for another ultrasound. We were pleasantly surprised and thankful to hear she was still pregnant and had decided to carry her baby to term! She told us that she felt close to God and felt like He was supporting her decision to keep and raise her baby.
During the ultrasound, Cara began to cry — a complete transformation from her previous quiet reaction to the ultrasound at five weeks. She laughed, expressing surprise and joy at seeing how much her baby had grown.
The ultrasound showed clear development of arms, legs, torso, and skull. Even better, the baby was especially active which seemed to warm Cara's heart! This ultrasound was instrumental in affirming her decision to carry her baby to term.
Thank you so much for your contribution to God's ministry at Palouse Care Network. Our clients are blessed by your involvement and support, and lives are being changed.
*Name changed to protect confidentiality