Generational Love: Diane's Story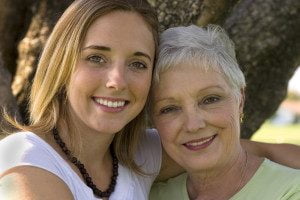 Diane wasn't quite our typical patient. Greying slightly, worry lines tracing her face, tears slipped from her eyes as she spilled her heart to her advocate. She had come to us for advice. Her granddaughter had just told her she was pregnant. As a single young college student her granddaughter Lindsey didn't think she was ready to parent and had determined abortion to be her only option. Her grandmother was fearful for her granddaughter, knowing how heart breaking an abortion can be for the mother and her family. We started praying – praying for the generations involved in this decision, asking the Lord to intervene.
Lindsey was still determined, and had made an appointment at a clinic where she lived. Her grandmother was heartbroken but she had decided to "be Jesus with skin on" and traveled to Lindsey's town to be with her at her abortion appointment. She desperately hoped Lindsey would choose life for her little one, but she was going to support and love her regardless of her decision.
When they pulled up at the abortion clinic, they were rushed back to a room for an ultrasound. Lindsey and Diane both felt overwhelmed by the stress of that moment, but even in the chaos of the appointment God intervened. Lindsey decided she couldn't have an abortion. She left the clinic resolving to find a way; she just needed support. She moved all the way across the state to be back to the Palouse with her parents, who welcomed her with open arms.
She walked into Palouse Care Network bubbling emotion. She was eager to know about the services we provide and to take full advantage of them. Her resolve was strong, even though her circumstances still whirled around her. The scene on the ultrasound – of her baby – was met with tears in the young mother's eyes. She insisted that she was carrying a little boy.
She paid keen attention to each referral we gave – from life coaching, to a single mom's group, to classes on healthy pregnancy. She scheduled her life coaching appointment for the following week.
When Lindsey left her first visit to Palouse Care Network, she shared about her experience here. "Everyone was immensely helpful, kind, and supportive – I will definitely be back. I felt so supported and respected in every choice I make or made – extremely wonderful group of people here. THANK YOU!"
We are so thankful the Lord is allowing us to play a part in the lives of Diane, Lindsey, and this little one to come. Thank you for supporting the life affirming work of Palouse Care Network. Please continue to pray for the Lord's hand in this ministry.
*Names changed for confidentiality