Valued and wanted: Adrianna's story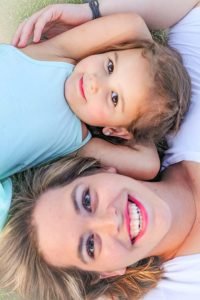 Three weeks late.
Three positive home pregnancy tests.
Three thousand miles away from her family.
Desperately hoping that all of her home pregnancy tests were defective, Adrianna drove alone to WISH Medical. She remembered hearing a radio ad about having a safe place to go—
Her hope was that WISH medical staff would tell her it was all a mistake, and that her life could resume as normal. She wasn't ready to have a baby. She never imagined that she would be single and pregnant.
Her fears were confirmed when her pregnancy test was positive. Her heart sank and she began to sob. What would she tell her family? What would she tell the father, a man she was no longer involved with and who wasn't ready to be a father?
Adrianna was provided with a free ultrasound. She watched the screen, holding tightly to the hand of one of the nurses. When she saw the heartbeat of her baby, she couldn't speak. She was only able to cry tears of joy mixed with sadness for her unplanned situation.
The next few months were a blur for Adrianna. She had not come to a decision regarding her pregnancy. She regularly came to WISH for support. Every week, her advocate encouraged her to join a single moms' group at the center.
Adrianna finally went to the group and was relieved to find that she was no longer alone. Every week, she was given information about how to successfully parent alone. More importantly, she felt that she and her baby's life were valued and wanted. She was thankful to be told with each group that God loves her. Because of this love, she was able to move forward. She finally made the concrete decision that it would be best to raise her baby as a single parent and decided against her other pregnancy options.
Adrianna's beautiful daughter came roaring into the world in August of 2013. The first time Adrianna saw her she could not believe that she could love someone so deeply. Since then Adrianna and Braelynn have grown into a beautiful mother-daughter team.
Because of what she went through, Adrianna gives her time, love, and support to many others facing difficult circumstances. When she isn't working, going to college, or spending time with her sweet girl, she is helping other single moms on their own journey. Most importantly to Adrianna, she has gotten closer in her relationship with God and wants to show His love to others.
We are thankful to be just a small step in the incredible journey of Adrianna and Braelynn. It is because of our donors and volunteers that we are able to be here for single moms to receive a lab-quality pregnancy test, ultrasound, and community resources and support.
We are so thankful for her story, and thank you to those of you who donate. Your contributions may be the reason someone is able to find the courage they need to make the next step.