Looking for love: Hannah's Story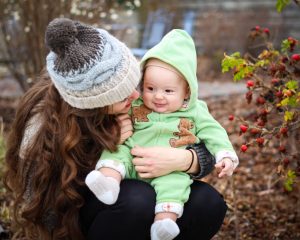 At age 19, I had been looking for love in all the wrong places. I was in an unhealthy and destructive relationship when, to my shock, my home pregnancy test came up positive. My boyfriend immediately told me I had multiple options for my pregnancy, but I told him the only option that I would consider was to carry the baby to term.
A woman at my church gave me WISH Medical's number. Panicked, I called the number and reception told me I could just walk in.
On November 9, 2015, I received a pregnancy appointment and an ultrasound. I did not feel equipped to be a parent, but the moment I saw my baby's heart beating at 6 weeks along, I fell in love. My future decisions were no longer just about me—they were about giving my baby everything he deserved.
Seeing his heartbeat was what gave me the courage to get out of the unhealthy relationship I was in. I had to make some difficult decisions to move forward, but it was worth it. When my son came into the world, I told him I was going to continue to fight hard to give him everything he needs.
Today, as I raise my baby as a single mom, it has been a huge relief to come in monthly for material resources. (Baby clothing is expensive!) More importantly to me than any amount of diapers or clothing, though, is that WISH has given me love instead of judgment. The question WISH had for me was not, 'How did you get in this situation?', but 'How can we help you?'
The most important thing that I want donors to know is that when you give to this organization, you are giving a second chance to young single moms like me. You are giving us the opportunity to feel like we can do it. You are filling in the gaps with kindness and support. I am so thankful for you!