Nineteen and Pregnant: Kayla's Story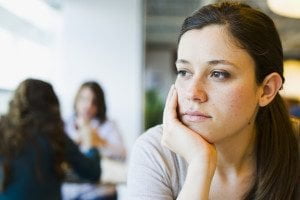 Kayla* stared in disbelief at the reading on the home pregnancy test. Positive, just like the other 4. She couldn't wrap her mind around being pregnant. Kayla was only nineteen. She had plans to go to college, get straight A's, and apply to medical school. How did a baby fit into that plan? There could be some chance that the tests were wrong. She had to know for sure.
She walked through the doors of WISH Medical full of trepidation, but the welcoming atmosphere helped her to relax a bit. She met with a friendly Client Advocate who asked her a full range of questions. Kayla's fears and hesitations tumbled out of her. She expressed pressure from her aunt, the potential father of her baby, and other friends to have an abortion and just move on with her life. She felt like that was her only choice. She hadn't even entertained any other options. The Client Advocate calmly and rationally walked her through all of her potential options, allowing her to pause to work through the pros and cons of each.
Her advocate also offered her the opportunity to talk with two young single mothers, both in college. These young moms shared with Kayla the joys and challenges of single parenthood. They shared practical information about scholarships, grants, and programs universities have to help pregnant or single moms continue their education. Kayla began to feel weight lift ever so slightly as she started to realize that she had more than one choice.
The lab quality test confirmed she was pregnant. While Kayla knew an ultrasound was the next best step she was hesitant, knowing that seeing the images and hearing the heartbeat made this pregnancy undeniably real. She steeled herself and scheduled the ultrasound for the next week. The next week was full of crucial moments for Kayla and her baby. Her aunt had a change of heart and decided to support Kayla raising her child. She returned to WISH Medical for her ultrasound and with a huge smile she said, "I've decided to keep my baby!" She was so excited to be a mother that she had already bought baby clothes.
As the medical professionals started the ultrasound examination Kayla was anxious, hoping to see a healthy pregnancy on the monitor. At the time, Kayla was only 5 weeks along. The chances of seeing a heartbeat or a good image were slim. Despite the odds, she was able to get both. She lit up when she saw the tiny heartbeat flutter, and she couldn't keep the smile from her face.
It was so wonderful for us at WISH Medical to see her smiling and joyful. We printed off several images from the ultrasound and she began to take pictures on her phone and send them out to family and friends. Kayla has returned to us twice since her initial pregnancy test and we are blessed and honored to support and love her.
Kayla signed up for the Palouse Care Network Life Coaching Program and is working toward specific goals with a caring Life Coach. She is also interested in taking parenting classes and using the resource room as she moves forward in this special chapter of her life.
It is such a blessing to be able to make a difference in women's lives like Kayla's. Thank you for making this possible!
*Name has been changed to protect confidentiality.